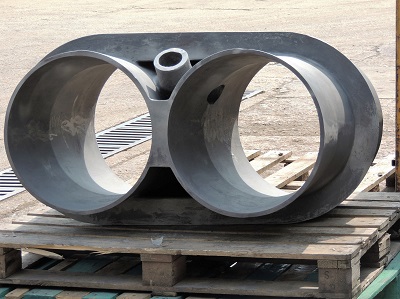 Having previously supplied castings for the 60163 Tornado steam locomotive, we were honoured and delighted to be asked to supply castings for the ongoing project that the P2 Steam Locomotive Company are progressing.
The challenge for the P2 Steam Locomotive Company is to develop, build and operate an improved Gresley class P2 Mikado steam locomotive for mainline and preserved railway use (as pictured above). This is some challenge, with an estimated build cost of £5 million and a 7-10 year build time, whilst relying on donations and sponsorship to fund the project.
We were delighted when David Elliott from The P2 Steam Locomotive Company contacted us to see if we can help produce some castings for the new build. Our first challenge was to manufacture the pattern equipment and cast the double chimney. The pattern equipment consists of 1 split pattern and 5 core boxes, all made to measure by the exacting standards of our pattern shop at a total of 300 hours work.
The completed pattern equipment was dimensionally checked and passed on to the foundry ready for moulding. Andy and Dan ensured the cores went together nicely, lowering them gently in place before double checking we had enough allowance/tolerance to produce a sound casting.
Once everyone was happy, the mould was closed ready for casting. Martin and the two Andy's took charge of the molten metal with a steady pour. Cast in SG Iron and weighing 319KG, the double chimney was born.
After the casting had cooled, it was over to the fettling shop to remove the runners, risers, flashings and any unwanted metal, before being given a final blast in our shot blasting area.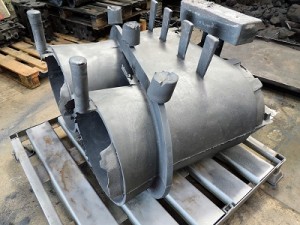 The double chimney ready for dispatch to the customer.
South Lincs Foundry also had the pleasure of making the cab spectacle window frames for the new build P2. Again, the pattern equipment was made in our pattern shop. These frames are cast in gun metal and the picture at the top of this article demonstrates where they will be situated on the cab. This paints a picture of the sheer scale of the locomotive.
South Lincs Foundry look forward to producing more castings for the new build P2 in the near future and are honoured by the fact we have played a part in contributing towards its heritage. All of us here at South Lincs Foundry would like to thank the P2 Steam Locomotive Company for their continued business. Keep up the good work guys!
For more information and progress of the P2 please visit www.p2steam.com